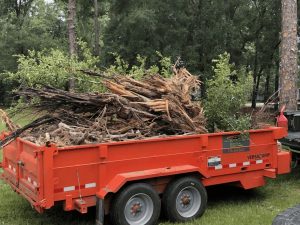 Every homeowner knows that an ugly yard from overgrowing vegetation and dead trees is the worst eye sore on the planet. Sometimes we don't have the time to keep at our yard consistently, and it ends up getting way too out of control. This is where Bush Hog Gone Wild comes in to give your property a facelift.
Common Vegetation Problems on Properties
The most common vegetation issues on homeowners' properties can cause headaches, especially if you're trying to improve the look of your yard or build something on your property.
Here are the most common problems we run into:
Dead Trees and Stumps – Not only are these ugly to look at on your property, but they are also a safety hazard. Dead Trees can breakdown and fall and cause damages to your property and even home if not taken down. Stumps and dead trees can manifest diseases and infestations from pests causing other vegetation harm.
Overgrown Brush – Overgrowth can be a great home for pests and insects on your property. This can cause your land to become a home for more and more if not taken care of properly. Your house can also be invaded the overgrowth becomes out of control.
Debris from Storms – Storm cleanups can be daunting to homeowners. Florida can be hit with heavy storms that cause large debris and branches to gather on your land.
Driveway Improvements
If you're not taking care of your property's vegetation, then your driveway may need some work as well. Brush clearing your land and digging up tree stumps can be a big issue. If you're driveway needs a big makeover, Bush Hog Gone Wild is the perfect company to get the job done. We use heavy equipment and machinery to make sure the new driveway is properly installed, and the land is leveled out.
Looking to improve the look of your property? Contact us at 352-206-3453!