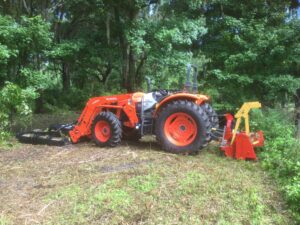 Land, tree, stump & brush clearing! Bush Hog Gone Wild, is the preferred company for excavator, tractor, loader and zero turn mower / mulcher services! Bush hogging, tree, stump, excavation, grading, field and lot mowing. Plus retention pond, drainage swale, driveway, RV pad, building demolition, new building site prep, removal, hauling and burning! Aerial drone mapping and photograph services are also available on all projects!

Heavy Equipment Line Up
Our expansive heavy equipment line up includes, a 114-horsepower Kubota M6 tractor, M6060 60-hp tractor, 5-ton Bobcat E50 excavator, John Deere 304L loader and Bobcat MT85 mini track loader. Plus our 6' deck, zero turn Alto track, Kubota and John Deere mower / mulchers. Tractor attachments include, a diamond blade, heavy duty forestry mulcher, 15' wide bat wing mower, 6' wide bush hog, smooth bucket, grappling hook, grading box blade and Harley power rake. Excavator attachments include a 24" tooth, 36" smooth buckets, brush cutter, concrete breaker and hole auger. Loader has a large smooth grading bucket and grapple rake.

Excavator Services
Does your project require tree and stump removal, driveway and RV pad preparation, drainage swales, building demolition, or new building site preparation? Bush Hog Gone Wild, has the latest model Bobcat E50 excavator, to complete the project! Our excavator, can be outfitted with a 24-inch toothed bucket, a 36-inch smooth grading bucket. It also has a brush cutter, or concrete breaker, to remove anything and everything from your property! Our Bobcat track excavator, is also specifically designed to dig retention ponds up to 11.6 feet deep and create drainage ditches, or drainage swales.

Tractor & Loader Services
Bush Hog Gone Wild provides a wide range of tractor and loader services to our residential and commercial clients. By attaching a smooth bucket to our M6 tractor, M6060 tractors, or JD 304L loader, we can move dirt, rocks, and other debris from your property. We can also attach our grapple unit to our tractor and loader, to clear brush piles for removal, or on-site burning. With our heavy-duty box blade, equipped with ripper shanks, we grade and groom driveways, RV pads, or prepare residential, or commercial building sites. The Bobcat MT85 loader is used for finish grading driveways, RV pads and drainage swales.

Dead Tree, Old Stump & Thick Brush
Want to clear dead trees, old stumps, heavy brush, and other overgrown vegetation from a plot of land, Bush Hog Gone Wild is your first choice! Our tractor mounted 6-foot wide bush hog, forestry mulcher and grapple units, clear unwanted vegetation away easily and efficiently! The bush hog unit is capable of mowing and mulching trees up to 3 inches in diameter. Additionally, we remove trees up to 24" in diameter with our Bobcat E50 excavator and burn onsite, or haul away in our dump trailer. It's the perfect solution for those looking to reclaim land for beautification, increased value, or prep for new building construction.

Driveway & RV Pad Grading, Prepping & Installation
Driveway and RV pad grading, prepping and installation. We use our M6 tractor, with Harley power rake for removing sod, Bobcat E50 excavator for grading and Bobcat MT85 mini tracker loader for finish grading. This equipment line up, is perfect for recycled Millings installation on your new driveway your RV pad.

Large Field & Pasture Mowing
Large field high grass mowing, bush hogging, brush clearing and forestry mulching, with our M6 Tractor with 15' batwing mower, Alto track bush hog, Kubota and John Deere zero turn mower / mulchers! We specialize in large high grass cattle pastures, ranchland, lot mowing and land clearing! We also provide Tree and Stump Removal, or burning services with our Bobcat excavator and JD front end loader with grappling attachments.

Hurricane & Severe Storm Damage
Hurricane, Tornado & Severe storm damage clearing, forestry mulching, bush hogging, removal, burning and site prep services, by Bush Hog Gone Wild! We specialize in Down Trees, Limbs, Branches, Stump and Brush clearing, after severe weather affects your property! Using our Bobcat Excavator, JD Loader, Kubota tractor, Bush Hog and Grappling attachments, we clear unwanted debris efficiently and expeditiously! We serve the West Central Florida Region. Contact us today, to reclaim your property from storm damage!

Drone Services
Do you need aerial photographs of your residential, or commercial property for personal, or legal purposes, Bush Hog Gone Wild will provide you with the latest technological drone services required. We use a DJI Matrice 210 (M-210) drone to capture the images needed. We also have a wide range of sensors, including the Zenmuse XT2, the Zenmuse Z30, and the Zenmuse X4S, that allow us to fly our drone on the most complex mapping, agricultural, and inspection missions.
Contact us for your Land, Tree, Stump & Brush clearing needs!
Take advantage of our excavator, tractor, loader, bush hogging, brush clearing, field mowing, driveway, excavation, grading and drone services immediately, by calling 352-206-3453 or email pat@bushhoggonewild.com today!