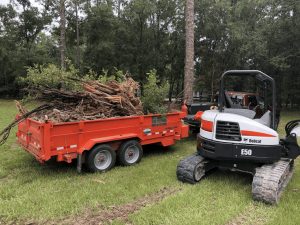 Having an overgrown yard isn't just annoying for you to look at, but it can also mean there is disease and infestation in your yard. If you have plenty of overgrown shrubbery and brush, this is where pests like to invade and make their home. Disease also enjoys making a home of the overgrowth.
Infestation of Pests Build Homes in Overgrowth
When it comes to infestation, pests such as ticks, fleas and camel crickets make their way into the nest and eventually multiply. This can lead to many issues with your property. As the infestation grows, it can threaten your home.
Ticks – You don't want to have an infestation of ticks because of the dangerous Lyme disease that they carry if they're infected. Take care of your overgrown vegetation, so you don't have to worry about getting infected.
Fleas – Fleas also can invade, which means if you have pets, this can become a huge issue. Your dog needs to be able to go outside and an infestation of fleas won't allow for this. If they get fleas, they'll be bringing them into your home.
Camel Crickets – Camel crickets are crickets that can multiply very quickly if they are living in your overgrowth. They will eventually make their way to the house if you have moisture in certain rooms such as the bathrooms or the basement.
The Solution to Infestation
The solution to this problem is simple. When dealing with overgrown vegetation, the smart move is to hire a professional like Bush Hog Gone Wild.
We have the tools and equipment to clear your land of any overgrown vegetation before any infestation, disease, or ugliness gets out of hand.
NEW EQUIPMENT: We have purchased new equipment that will allow us to clear trees up to 18 inches including stumps. Bigger trees can be cleared using the 5-ton excavator, and the 6.5-ton loader will be used for clearing roots and ground debris. 3 inches of clearing will be done by using only the tractor/bush hog and grapple.
Bush Hog Gone Wild
At Bush Hog Gone Wild, we specialize in land clearing trees and brush mulched to twigs, scraping and finishing driveways using a box blade, and loading services including grapple, forks, and buckets. Contact us at 770-318-2677 for the heavy-duty work!