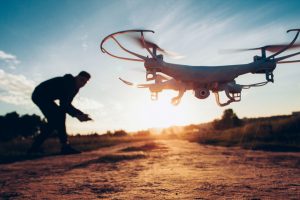 Many businesses around the country are investing in drones to get a higher view of their work. There are many reasons why they do this because it can help their business greatly with proving the integrity of their work. Bush Hog Gone Wild takes great pride in the work they do, which is why they take before and after photos of the properties they work on.
Benefits of Drones
For brush clearing services, the use of drones plays a big role in helping the customer view the problems with their land. Here are some of the major benefits of drone mapping with us:
Uncover pest problems, irrigation issues, fertilization needs, and other concerns
Inspect hard to reach areas that need to be photographed (towers, bridges, roofs)
Look at solar panels, roofs, hot spots in burning building
Get an aerial view of your entire property
Ultimately, this can be very beneficial for the home or business owner. If you need mapping, agricultural, and inspection missions done, our drone services can help you.
What We Provide You
We will be creating a 3D computerized model of a structure on your property with the images we capture using either our DJI Matrice 210 drone or DJI Phantom 4 drone. We take a Normalized Difference Vegetation Index image of a farm, golf course, or a large space for your convenience. Many farmers and other businesses want to have an image of their entire property in order to make changes and improve their business.
Check out what we have to offer with our drone services!

Bush Hog Gone Wild provides brush clearing services in Brooksville, and Central Florida. We can help you clear your property of any dead tree stumps using our excavator service and loader service. Contact us at 352-206-3453!