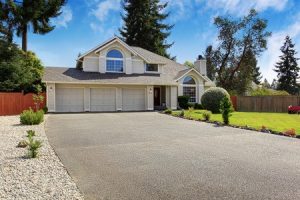 If a new driveway is needed on your property, don't wait to get the problem solved. We know it can be an eyesore to look at when weeds and grass grows through, or erosion and bumps naturally appear after years of wear and tear. Bush Hog Gone Wild is here to help you with your gravel driveway needs.
Excavating Your Driveway
If you need to demo an existing hard surface driveway, it makes sense to hire a professional like us to excavate and remove it to make way for a new Asphalt Millings driveway.
If you need to clear a large area for a big driveway or parking pad, we can use our Harley Rake to remove grass and level the ground, or the excavator for removing stumps.
Installing a Driveway
We recommend the use of Asphalt Millings, which is recycled ground up asphalt which when installed correctly makes for the sturdiest of driveways. Some customers prefer a crushed concrete driveway.  We can use recycled concrete that can be finely ground up for the base, then topped with a #57 stone top cover. We will grade and haul your debris or overgrown vegetation off your property to make sure your yard does not continue to look like a forest. When a yard is not maintained, you'll adopt plenty of problems including disease, infestation, and ugliness to your property.
Contact Bush Hog Gone Wild
Bush Hog Gone Wild is your go to land clearing service focusing in brush clearing, stump removal, and driveway installation. Your yard is the entrance to your home, which means it's important to keep it healthy and looking magnificent. Contact Pat today at 352-206-3453 to get started on your new driveway!