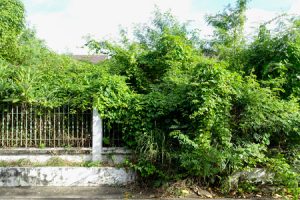 If you're planning on any construction or remodeling on your property, it may need to be cleared out of any debris and major brush for the project to run smoothly. Bush Hog Gone Wild can help you get your property ready for construction by removing the overgrown vegetation, up to 3-inch trees and brush mulched to twigs.  If you have larger trees, palmetto's, vines, this is no problem for the excavator.
Hiring a Professional Saves Time
Hiring a professional will ultimately save you time. If you have a big project or addition, you're going to have to get your land prepared. Instead of spending extra time yourself after your day job clearing your land of brush, overgrown vegetation, and debris, you can relax knowing the heavy work will be done by us.
It Prevents Infestations
Quite often, infestation is caused by overgrown vegetation and brush in your yard. Thick undergrowth creates a natural nest for ticks, rodents, and other pests that will cause headaches for you. If you're planning on doing construction for an addition or any other project on your property, clearing this brush will benefit you and your work. If you choose not to, you're inviting pests to infest your new construction and property project, which could cause future issues with your home.
It also should be noted that overgrowth could mean there is disease growing in the yard. This is never a good thing to have, especially if you're planning for construction.
It Adds Value
Clearing out brush and improving the look of your yard will add value to your property and home. If you're looking to sell your home or property, cleaning out brush and overgrowth will add value. By constructing an addition and clearing out brush from your property, you'll be adding double value to your home if you want to sell later on.
Bush Hog Gone Wild
At Bush Hog Gone Wild, we specialize in land clearing up to 3-inch trees and brush mulched to twigs.  Also, using the excavator we can remove stumps and trees up to 18 inches.  A new addition to our equipment lineup is a 6-ton rubber tire loader which utilizes the Harley Power Rake.  We can now till and rake your lot as necessary for sod, and smooth even the roughest terrain.  Preparing, scraping and finishing driveways using a box blade, land plane, Harley rake, grader blade and a variety of buckets, grapples and forks will tackle any driveway or dirt road problem or fix drainage issues.  Contact us at 352-206-3453 or 770-318-2677 for the heavy-duty work!