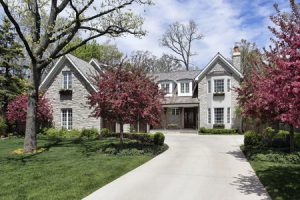 You work hard to keep your home in great condition, and a crumbling concrete or asphalt driveway impacts your home's look. Often, there are options to repair your driveway. However, depending on the severity of the damage, it's not always the most sensible option. If you're debating to repair or replace your driveway, start by reviewing these common driveway damages to help you make your decisions!
Large Cracks Forming on Driveway
Over time, you may notice visible cracks on your concrete and asphalt driveways. Gas and oil exposure over the years are common reasons that driveways begin to form cracks. It's a natural part of driveway aging.
Instead of having individual cracks in your driveway, you may notice an interconnected collection of cracks that cover your driveway. These cracks are known as alligator cracks, and they can increase the breakdown process of your driveway. Not to mention, this pattern of cracks doesn't look nice covering your driveway.
Is Your Driveway Experiencing Drainage Issues?
Do you notice water collecting on your gravel or asphalt millings driveway? If so, you probably have a grading problem that can easily be corrected with our tractor or excavating services. Water puddles will weaken the structure of your driveway, eventually creating more cracks and potholes. Overall, water collecting on your driveway is a sign of structural deterioration and can lead to more severe pavement problems.
Is It Time for a New Driveway?
Over time, everyday driveway use, harsh weather conditions, UV rays, and chemicals can lead to more severe driveway issues that can't be fixed by a simple repair. If you're experiencing any of these problems, it may be a sign that it's time to replace your driveway. Sometimes, it doesn't make much sense to spend your money trying to fix an old driveway that should probably be replaced. At Bush Hog Gone Wild, we do not install new hard surface driveways, but we do remove them and replace them with crushed concrete or asphalt millings driveways. These driveways are much cheaper and easily repaired over time.
If you are looking for gravel or millings driveway installation specialists in Hernando, Pasco, Sumpter, and Citrus county area, then Bush Hog Gone Wild can give you the driveway you need to improve your home or farm's appeal! Give us a call at (352) 206-3453 to start your new driveway installation.